My workstation
When my entry-level macbook Hard Drive crashed a few weeks ago, I felt like a squatter hopping from my 2 daughter's desktop or my husband's laptop. I felt it was time to revive my desktop. The last desktop (Pentium 3) I owned crashed around September last year. It had been with me for 6 years. Not bad right? Besides I needed to retrieve valuable files from my own desktop and that of my husband's old computer. I considered the IMac since it blends so beautifully with my white-themed workstation but the price ranged from 68,988 (iMac 17 inch) to that of 184,988 pesos (iMac 24-inch). So poof.
I got my first quotation at PC Express Katipunan branch (http://pcx.com.ph/) which came out quite affordable. Lauren and Marielle's desktop was purchased from them so I told them "give me the lowest price possible" as I am a frequent shopper. I also asked Abe's advice on the specifications of my new desktop rig. Armed with new specifications, I asked for a new computation which came out even more expensive. That wasn't the problem. The problem was that the Asus P5B-MX Motherboard that I wanted wasn't available. The motherboard came with a built in Wi-fi which I needed since I have multiple Internet connections in my Small Office Home Office (SOHO) setup and I just absolutely hate many wires running through the walls or floors. I want them hidden.
I was toying with a two 19-inch monitors but I felt I didn't really need it. I wanted a wide screen resolution. Anyway, since PC Express couldn't commit on a date of the motherboard availability, I trooped to Villman Computer System (villman.com) at their Katipunan branch. Villman isn't highly recommended though. Jayvee recommended RSun Computers for their low low prices but I decided to get a nearby computer shop for support reasons. Villman's initial quote was really high but in the end when they knew I was a serious buyer, they matched the PC express' prices. I chose the Win XP pro over the Vista as I didn't want to be bothered with incompatibility issues.
The final decision on my purchase was that I wanted the latest computer specifications for home business and medium multi-media usage. No games for me. I was also partial on the Asus brand because of the durability of my last desktop.
So here is my new toy so my husband says:

My ViewSonic's 22″ VX2235wm LCD monitor and white Macbook

The CPU in an Asus Tower with the wifi antenna on the top
Having the tower on the floor hides the electrical connections which can really be untidy to look at.

My HP Office Jet Printer with Fax, Copier, Scanner
Abe advised me to get stand-alone versions of a fax, printer or scanner but I like my workstation as clutter-free as possible. I took a chance on this all-in-one office Printer. I felt so stupid when I kept calling the shop about a defective printer. I said "The printer keeps saying no paper". All the while, I placed the paper in the wrong feed. Duh.

My blog as seen in a 1680 x 1050 screen resolution
Here are the complete specifications and their prices in PESOS as of June 28, 2007:
Intel Pentium D925 3GHZ- LGA 775 L2 Cache 2 x 2 Processor @4,250
Asus P5B-MX/WiFI-AP LHA 775 IG946GZ- with Audio, Video, GB Lan Motherboard @4650
Kingston 1GB KVR533D2N4 DDR2 PC533/4300 Memory @ 1800
Asus TA-551 Black Silver ATX Meidum- tower w/4-Bay True 350W PS @2,700
Asus EN73300GS/HTD GF FX7300GS 256 MB- 64BIT PCI-E 16X DRR2 Video Card @3,388.00
Viewsonic VX2235WM 22″Silver Black0 wide 5MS 1680 x 1050 LCD Monitor @ 18,996 with free 2 GB flash disk
Seagate 320 GB SATA 16MB 7200 RPM- Barracuda Hard Disk Drive @ 4,520
Samsung SH-S182 Unternal- Lightscribe DL DVD+ 8x /DVD-RSX DVD- RAM Drive @ 2,188
HP OJ- 4355 Officejet Printer @ 6,800.00
Microsoft Windows XP-Pro Edition OEM @ 7,300
Creative SBS350 Black 2.1CH with SUB-speakers @ 999.00
Giant PS/2 Scroll Black Mouse @ 180.00
Giant G-500LC Black (3-220v) AVR @ 345
Total Cost of the desktop: 58,391.00 pesos or $1,280.00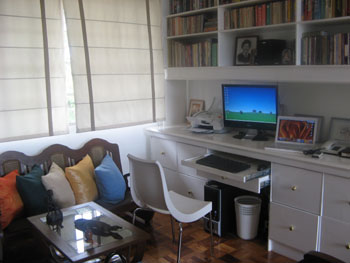 I love the clean look of my workstation. Clutter is minimal as most of the papers are tucked discreetly in drawers beside me. I work better when I don't see clutter around my workspace. Now I can translate this investment by increasing my work productivity.