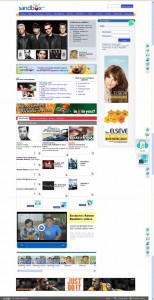 Sandbox is a unique online portal that allows you to keep in touch with friends and share photos and blog entries to a wide network. Sure, there are many other social networking services that let you do this, but what makes Sandbox different from the rest?
One-stop mobile shop
You can buy ringtones, mp3s, and games for your mobile phone at the very same place where you share pieces of your life with your friends. Paying for services and mobile phone add-ons is also very convenient – the charges are automatically sent to your postpaid bill or deducted from the load of your prepaid mobile.
Made by Filipinos for Filipinos
You know how other social networking sites have a lot of updates on events that are happening halfway across the globe? This won't be the case with Sandbox. Sandbox is locally developed for a Filipino audience, which means that it provides you with all the information you need to know on movies, events, news, and other important happenings in the Metro. For instance, the What's Hot section shows 15-second previews of songs, games, and movies available in the Philippines. Besides relevant content and information, Sandbox also offers many tangible benefits when you participate in their campaigns, such as prizes, promos, raffles, and giveaways.
Your friends are on Sandbox already
Sandbox may have been launched in April but months before that, it already had hundreds of beta testers that have started communities and stimulating discussion. Chances are, someone you know is already on Sandbox!
Money-making opportunities
Think of your Sandbox account as real estate – the bigger your network and your community, the more money-making opportunities you can have, especially if you snag potentially popular keywords.
Anyone with internet access can make their own account on Sandbox for free. Simply log on to www.mysandbox.com, click on Register, and fill out all the required fields.