My idea of [tag]home office furniture[/tag] or a [tag]workstation[/tag] is one that serves its purpose yet looks attractive. In my new home, I had a vacant space in the landing of the second floor. I knew this was the perfect spot for my workstation. I didn't want that"office look". Scouring the internet for workstation ideas , I came across these photos. I like the idea of a filing drawer and the warm wood finish.

The corner design is quite a space saver

The idea of mixing books and work blends well with my needs.
Since I could not find the ideal workstation furniture, I had it customized by a talented carpenter. Much as I wanted a corner workstation, the window was a hindrance to the design. Wood finish seemed the best choice but there was an existing white bookcase in the den.
This was finally the design of my workstation.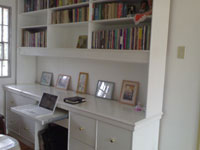 There is a keyboard drawer , drawer, 8 filing cabinets and lots of space for books. A hole for electrical wires for the desktop computer exists in the middle of the table. The lacquer white finish and polyurethane top makes the table scratch resistant. Enamel paint easily cracks.
The customized home office furniture cost me 19,147.00 pesos or $396.00
It's quite a piece of furniture. I'm loving working on it now.