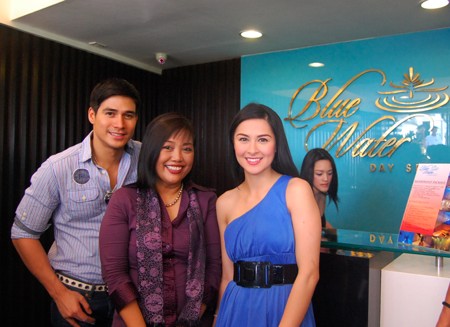 Going to the spa is one of my favorite ME times. Attending the launch of the latest Bluewater Day Spa in Capitol Hills excited me because this branch is closest to home and school of my children. I am one of their future customers. I once again met the Piolo Pascual and Marian Rivera, endorsers of Bluewater Day Spa. These two showbiz stars not only are good looking but they actually look refreshed and relaxed.
For some, relaxation means retreating to a place far away from the stressful fast pace of every day living, a place that reminds them of a time when everything was serene and simple. There are very few places in the city that offer this kind of haven and today, Blue Water Day Spa allows you to fulfill your need for relaxation and body treatments in a peaceful environment.
The new Blue Water Day Spa branch at Capitol Hills transforms the spa experience by creating an environment that reminds you of a plush beach resort nestled in white sand, only a few feet away from crystal clear blue waters. The minimalist interiors of the lobby already gives you a sense of lightness, as if a huge weight just got lifted off your shoulders.
But this is just the beginning of the Blue Water Day Spa experience. Blue Water Day Spa offers a whole range of signature treatments for different needs. The Crystal Massage Therapy modernizes an age-old treatment of using crystals as conductors to soothe muscle pains and aches caused by stress, and other mental and emotional discomforts. The Sahara Oasis Massage also makes use of ancient techniques to heal modern ailments, this time from the mysterious desert nomads. Let special oils from the Sahara restore your spirits as the heady aromas of myhrr, coconut, sandalwood, amber, and coriander refreshes your body and mind.
Besides regular pedicures and manicures, Blue Water Day Spa offers special services for men and women women. Achieve flawlessly smooth skin and get rid of unwanted body hair using Blue Water Day Spa's fluorescent pulse light technology imported from Sweden. You can also let your fingernails be miniature canvases of over 1,000 works of art through digital nail art. Men can also avail of many facials, body massage therapies, and other pampering services made especially for the man.
Bluewater Day Spa Capitol Hills Branch is open every Mon-Thu, 2PM to 11 PM and Fri-Sun 11AM-12MN. For reservations and appointments, please call 435-0114, 473-0455 and 952-4829.