Check out the NuffNang Philippines, Asia's First Blog Advertising Network
Over a week ago, a few bloggers and myself met with Outcomm, Inc. a local leading outdoor advertising company who introduced us to Nuffnang. I was pretty excited about this latest ad network because of their success in Malaysia and Singapore.
What is NuffNang?
Nuffnang is a pay per impression blog advertising company which means the blogger gets paid from each and every unique visitor that visits your blog daily. Nuffnang started its launch in Malaysia on February 27, 2007 and in Singapore last April 30, 2007 by 2 university students, Timothy Tiah and Cheo Ming Shen. As of August 2008, over 45,000 bloggers have signed up with Nuffnang in Singapore and Malaysia.
It is the latest blog advertising company in the Philippines aside from Mad Crowd Media, Blog Bank and Red Sight Media. Competition is always good, right?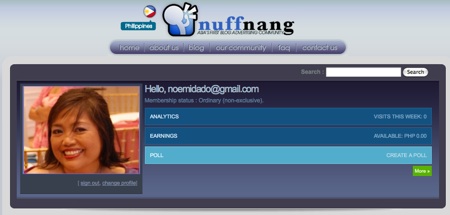 You can try Nuffnang now and be one of the beta testers by signing up here!
If your blog is not qualified in the program, it will be deleted after the official launch date slated for August 27. The beta test is open to all bloggers. Just fill up the required fields including the IC No. (which is 4 or more random numbers in the IC No. field). Once you've signed up, add your blog and answer a short survey. Once you're done, you are now an official Nuffnang Philippines Beta Tester.
Though ads are not yet active, I've added six of my blogs and I am loving the nifty web analytics in the control panel as shown in the above screen cap.
Nuffnang also offers an exclusive membership program called Glitterati and Innit, and their very own content aggregator to drive traffic among community members. I am not yet ready to be exclusive to Nuffnang until I see results.
Here is a sample of their sidebar ads:
and large rectangle to put between ads:
Their Leaderboard ad is 728 x 90 which I might place in this blog.
Read the Nuffnang FAQ here for more information.
Nuffnang Philippines' official Launch is on August 27. Watch out for more prizes and fun for bloggers.
Nuffnang.com.ph officially launched August 26.